STRONGLY RETURNING TO FRANCHISE
The 26th KEM INTERNATIONAL FRANCHISE Exhibition will take place from 1 to 3 March 2024, in Athens.
The last event had excellent results for the participating companies. As a general conclusion, investors are strongly returning to franchise and the industry is getting stronger again. Take part in the unique franchise exhibition of Greece, which is the meeting point of the representatives of the chains and the specialized audience of franchise candidates seeking for a franchise or master.
If you are interested to expand your company in Greece, participate in the upcoming KEM franchise exhibition and find your partner.
Exhibition Profile
Prospects from all over Greece will attend in order to open their own branded business. 3 days of intense business activity with information on investments, payback time, areas of development and all the details for successful growth. Take the advantage of face-to-face contacts, find your partners and develop your network in Greece.
Due to high demand apply now and ensure participation
THE 25th KEM FRANCHISE INTERNATIONAL EXHIBITION
WAS SUCCESSFULLY COMPLETED
From 3 to 5 March 2023 at MEC Paianas, companies from a wide variety of categories had the opportunity to present their concepts to interested investors from Athens and the rest of Greece. Exhibitors from abroad from the following countries participated in the exhibition:
CANADA
POLAND
UKRAINE
GREAT BRITAIN
CYPRUS
BULGARIA
After the statements of our exhibitors, the exhibition was completed with success, with a 50% increase in efficiency.
We thank all our exhibitors and visitors and wish everyone to have good results.
Categories in the KEM FRANCHISE 2023 Exhibition
FOOD

FAST FOOD – PIZZA – ICE CREAM – CAFÉ – PASTA – COCKTAIL

SUPERMARKET – MINIMARKET

SERVICE PROVISION

TECHNICAL SERVICES

BUILDING MATERIALS – MARBLE

EDUCATION-TRAINING

HEALTH & BEAUTY

GYMS

GADGET

ROBOTICS

TOYS

PET GROOMING ETC
CHRISTOS FOLIAS AWARD
The KEM FRANCHISE International Exhibition awards the former Minister of Development Mr. Christos Folias for his 25 years of support to KEM and the Franchise institution.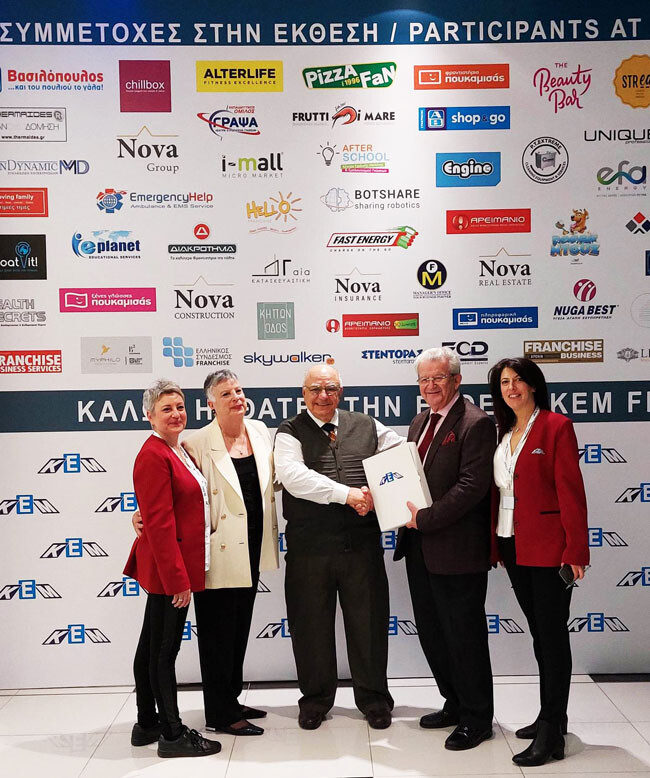 The importance of KEM in the Franchise market in Numbers 
NEW FRANCHISES (IN THE LAST 4 YEARS)
AVERAGE INVESTMENTS (MILLIONS EURO)<br />
Over 500 companies that participated in KEM Franchise Exhibitions developed their network with great success!
Our International Reputation… 
I would like to thank you for your well planned meeting and fair. It will be our pleasure to market your fair!
Karin Kisker (SFA / Swedish
Franchise Association)
On behalf of the French Franchise Federation, I would like to thank you for the nice and warm reception you gave us in Athens. You have provided us with good working conditions and nice accommodation. Having seen the progress of your exhibition I also would like to congratulate you for this achievement. We know what this means, as amount of work, involvement and investment.
Chantal Zimmer (EFF / European Franchise Federation)
It is a great honor to participate in the KEM World Franchise Exhibition which gives the opportunity to present new business ideas, to sign business contracts and is the spark for evaluating the international progress within the exciting world of international franchise.
Dhawal Shah (FAI / Franchising Association of India)
I would like to thank you for the very successfully organized exhibition and WFC meeting in Athens. As every member of WFC
noted, this meeting was one of the most successful meetings organized the last years. I am very happy that it was organized by such a
professional company like KEM.
Ekaterina Soyak (Russia)
In the middle of the financial crisis, franchise proves in day to day bases that it overcomes the difficulties for the market growth. 
KEM EXPO SINGLE MEMBER P.C.
18, Ag. Triados str., 153 43 Ag. Paraskevi, Athens-Greece
TEL.: 0030 210-6084550
FAX: 0030 210-6084559
EMAIL: sales@kemexpo.gr