Welcome to the only Franchise Exhibition of Greece! 
The best way to develop your network and expand your business in Greece! 
The best way to develop your network and expand your business in Greece
22th KEM INTERNATIONAL FRANCHISE EXHIBITION

KEM following the great success of Thessaloniki's Exhibition, continues with the organization of the 22nd KEM International Franchise Exhibition in Athens, which will be held from 13 to 16 March 2020 at Mediterranean Exhibition Center.

EXPAND YOUR BUSINESS WITH FRANCHISE
Thessaloniki's exhibition closed with the best impressions, and many exhibitors closed their booth for Athens' exhibition. Even the new brands have been satisfied with their initial contact with the Franchise industry and are ready to highlight their company and the demanding public in Athens.
KEM has also shown so many years that through its exhibitions, many successful brand names have started to succeed in our report. More than 500 companies participating in KEM International Franchise Exhibitions have developed their network with great success, reaching over 20 000 Franchise in Greece.
KEM International Franchise Exhibition gathers a Record for Participation
Athens Expo is mainly aimed at companies that want to develop on the Greek market and seek investors in Greece and abroad. The Greek market, after years of inaction, returned even more promising.
A number of new entrants have already registered up to the largest companies in Greece, which will present a concept of origin and enable visitors to choose from a wide variety of concepts which suit them and will ensure their future professional career.
By presenting their business proposals to thousands of interested visitors from Greece and abroad, exhibitors enable them to communicate directly with them and choose the concept that suits them best.
The sectors of the exhibiting companies which take part are listed below:
Food – Super Market – Mini Market – Organic Food – Street Food
Sushi – Snack – Confectionery – Tea Shops – Coffee Shops – Ice Cream
Café – Sandwiches – Theme Restaurants – Internet Cafe – Balls
Health – Beauty – Personal Care
Cosmetics
Gyms
Florists
Optical
Clothing – Footwear – Accessories – Bags
Provision of Services
Education – Training – Children's Brain Development Programs
Small Items of Household Equipment
Gifts – Gadget
Eco – Energy
Pet Care Products
High-Technology Products
Gas stations
Cellular
Washing machines
Miscellaneous
By participating in KEM Franchise, you will be able, within 3-4 days, to choose from a large number of visiting prospective investors the appropriate Franchisee partners throughout the country.
Take this opportunity by registering up early and you'll be able to choose the space that fits your company and take advantage of the discounts for your participation.
Please complete the Application Form for a booth and contact us for more information so we can jointly choose the stand that best shows your business.
• Application Form for a booth
• Photo Gallery
• Testimonials
• Numbers talk on their own
See More
14th KEM Franchise of Northern Greece 2019
The 14th KEM Franchise of Northern Greece 2019 in Thessaloniki was completed with great success, from the afternoon of Friday, November 8 to Sunday night at Porto Palace, with several new Franchise partnerships in progress.
The exhibition was inaugurated by the Minister of Internal Affairs of Macedonia and Thrace, Mr. Karaoglou, together with the vice-regional development and environmental manager Mr. Gioutika and the deputy mayor of Thessaloniki Mr. Zebekis.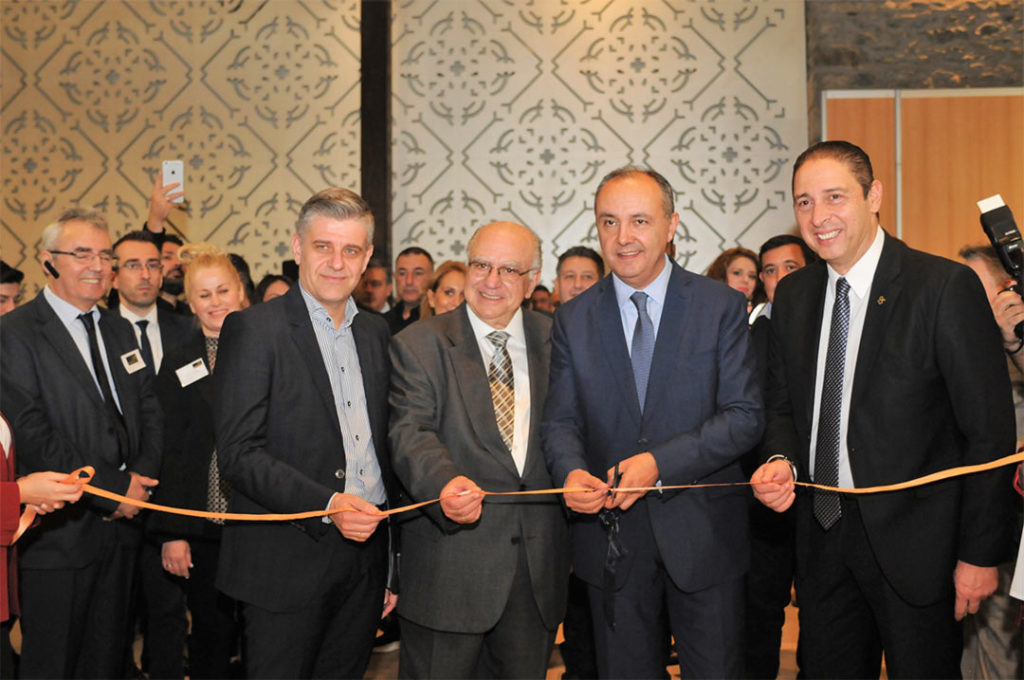 The franchise proves every day that it does not only withstand but is a leader.
The report's traffic increased by 50% compared to last year, which proves that the country's investment public trusts the franchise to open its own business. Visitors to the exhibition came mainly from Thessaloniki, as well as from the prefectures of Larissa, Karditsa, Katerini, Ioannina, Kozani, Kastoria, Florina, Pella, Kilkis, Serres, Drama, Kavala, Xanthi and beyond.
As Mr. M. Konstantinidis, president of KEM, said, "In this year's report I recognized the high traffic and quality of the investment public who visited it. The Greek investment public has grown and matured and I am delighted that through our exhibitions our interested visitors have gained substantial knowledge and great confidence in franchising. "
Many profitable agreements enclosed the companies that participated, during the exhibition, and the exhibitors commented on the very good prospects for the creation of other agreements in the coming period, with an impressive observation of the exhibitors to They are interested in their development by participating in the forthcoming Athens KEM exhibition 2020.
The 22nd KEM FRANCHISE ATHENS exhibition will take place March 13-16, 2020 at the MFN Peania Exhibition Centre and you can register at www.kemexpo.gr and phone number 210-608 45 50.
The importance of KEM in the Franchise market in Numbers
New Franchises (In the last 4 years)
Average Investments (millions Euro)
In the middle of the financial crisis, franchise proves in day to day bases that it overcomes the difficulties for the market growth. 
Over 500 companies that participated in KEM Franchise Exhibitions developed their network with great success!
Our International Reputation... 
I would like to thank you for your well planned meeting and fair. It will be our pleasure to market your fair!
Karin Kisker (SFA / Swedish
Franchise Association)
On behalf of the French Franchise Federation, I would like to thank you for the nice and warm reception you gave us in Athens. You have provided us with good working conditions and nice accommodation. Having seen the progress of your exhibition I also would like to congratulate you for this achievement. We know what this means, as amount of work, involvement and investment.
Chantal Zimmer (EFF / European Franchise Federation)
It is a great honor to participate in the KEM World Franchise Exhibition which gives the opportunity to present new business ideas, to sign business contracts and is the spark for evaluating the international progress within the exciting world of international franchise.
Dhawal Shah (FAI / Franchising Association of India)
I would like to thank you for the very successfully organized exhibition and WFC meeting in Athens. As every member of WFC
noted, this meeting was one of the most successful meetings organized the last years. I am very happy that it was organized by such a
professional company like KEM.
Ekaterina Soyak (Russia)